This page is for Baymax, the Disney character. For the Marvel Comics version, see Baymax (Marvel Comics). For other uses and versions, see Baymax (disambiguation).
| | | |
| --- | --- | --- |
| " | Hello. I am Baymax, your personal healthcare companion. | " |
Baymax is the deuteragonist of the Big Hero 6 franchise. He is a healthcare robot built by Tadashi Hamada and a member of the superhero team Big Hero 6.
Background
"

Wait 'til my brother sees you! You're going to help so many people, buddy. So many!

"
―Tadashi to Baymax (in a recording prior to his death)
Baymax was created by the brilliant Tadashi Hamada during his time studying at the San Fransokyo Institute of Technology, as a healthcare providing nurse to improve healthcare around the world. The idea for Baymax first started with Tadashi's own desire to help everyone in need, and taking inspiration from Trevor Trengrove's thesis on artificial intelligence[note 1].
The process of creating Baymax was arduous and difficult, but Tadashi's desire to use his potential to benefit humanity never tarnished, so he worked eagerly on Baymax day and night in hopes of inspiring his younger brother, Hiro, to use his genius as Tadashi did. It took 84 tests to perfect Baymax, and Tadashi recorded every one of them. To provide Baymax with his programming, medical knowledge and personality, Tadashi built a healthcare chip with the help of his healthcare-expert friend Lily. The chip is encoded with the inscriptions that make Baymax the health-oriented and lovable robot he truly is. It also prevents Baymax from harming humans willingly; without it, this limit is compromised.
Baymax is instantly activated by the sound of distress and can only deactivate once his current patient states "I am satisfied with my care." Baymax will otherwise not stop helping nor leave until the patient confirms their satisfaction.
Official Description
Baymax cares. That's what he was designed to do. The plus-sized inflatable robot's job title is technically Healthcare Companion: With a simple scan, Baymax can detect vital stats, and, given a patient's level of pain, can treat nearly any ailment. Conceived and built by Tadashi Hamada, Baymax just might revolutionize the healthcare industry. But to the inventor's kid brother Hiro, the nurturing, guileless bot turns out to be more than what he was built for—he's a hero, and quite possibly Hiro's closest friend. And after some deft reprogramming that includes a rocket fist, super strength and rocket thrusters that allow him to fly, Baymax becomes one of the Big Hero 6.[4]
Personality
Baymax's initial programming comes from the healthcare chip which Tadashi developed, and contains Baymax's basic personality and memories. Once installed inside him, Baymax is the medical nurse he was designed to be. As a healthcare robot, Baymax is suited to carry out any form of task for the benefit of his patient. He is highly intelligent in the world of medics and technology, but on the other hand, lacked understanding of human concepts such as emotion, figure of speech, semantics and other aspects, causing him to understand everything in a literal sense (for example, trying to use defibrillators on Hiro when he claimed to get a "heart attack" as an expression), as well as use less contractions in his vocabulary than a normal person; however, thanks to Hiro, his friends, and the download of additional data for his programming, Baymax continues to learn and understand these aspects and gradually begins to pick up human characteristics and emotions due to his interactions, eventually gaining a personality of his very own outside of his original programming. This development enabled him to form a close bond with Hiro to the point where Baymax's protection over Hiro was no longer out of the fact that he was his "patient", but rather because he felt a genuine connection and concern for Hiro. This also caused Baymax to go from subservient and obedient to Hiro's suggestions, to outright disobeying orders from Hiro when Baymax realized that Hiro's actions were not what was best for him—for instance, when Hiro resorted to forcing Baymax to kill Yokai—something Tadashi would not have wanted for Hiro. As a result, Hiro learned what was right from Baymax and Baymax's input would be considered by the rest of the team.
In terms of personality, Baymax is rather calm—even when in dangerous situations—in order to take his time and think of ways out of even the simplest of situations to help his friends. However, his purpose also makes him naive and curious, and tends to get easily distracted. Towards patients, Baymax is devoted and extremely caring for them without question. He prioritizes the well-being of anyone in distress, even if they are considered enemies such as Yama or Obake. The only way Baymax will leave his patient's side is if he sees a genuine improvement, or if the patient assures they are satisfied with the care Baymax has given them. One notable trait Baymax possesses is his compassion, which resided within him even when he developed his own personality and only grew stronger over the course of Baymax's development. His strong vow to never harm a human being would go on to shape the moral foundation of the Big Hero 6's code of value as violence is not always the answer.
Despite the healthcare chip being the source of his default programming, other chips inserted in his port or certain states Baymax finds himself in can also affect him greatly, and everything he learns from them is stored in his memory. If his primary chip is removed, Baymax is left subject to the remaining chips, becoming an entirely different being as a result. For instance: Hiro first programmed a chip with fighting moves so that Baymax could attack Yokai, but the healthcare chip prevented him from actually injuring him. As Hiro removed the healthcare chip out of rage, Baymax's programming was overridden and attempted to kill Yokai until he was stopped by the rest of his teammates, who placed the chip back inside him. Upon learning this lesson, Hiro built a new "superhero chip", which allowed Baymax to regain his fighting skills but also gave him a strong sense of justice, therefore preventing him from any more violent outbursts, should the healthcare chip be removed again. However, the darker personality developed through the fighting chip still exists within his data, but can only be accessed when his chips are corrupted or overridden (such as the use of Obake's chip). During this change of personality, Baymax is no longer compassionate and is willing to kill anyone if he is ordered to. The most notable change of this is that his eyes glow red and his voice becomes deeper.
Also, when Baymax is low on battery, he enters a state that appears to make him highly euphoric and incoherent, as if he were intoxicated. On the opposite, if he is overclocked, he gains an erratic behavior, doing things too quickly and acting as if he has taken too much caffeine. In "Baymax Dreams of Too Many Baymaxes", it is shown that all these alternate personalities reside within Baymax's mind even if they are not activated by any chip, and Hiro had to use a special chip to restore Baymax's personality data so he could act accordingly.
Physical Appearance
Baymax's overall appearance is designed to be soft, cute-looking, and non-threatening so he can assist his patients without harming them. He appears as a wide robot covered in inflatable vinyl material, making his outward appearance resemble, as Hiro called him, a big marshmallow. However, his "true" appearance, which can only be seen by looking deep inside the vinyl, is a flexible carbon-fiber skeleton covered in plastic and wires with thick limbs holding the rest of his body together. The skeleton also has a projector in its chest for Baymax to display. Baymax's head is relatively simple-looking, consisting of only two "eyes" (actually hyperspectral cameras) and a mouth-esque line connecting them. His access port is on the left side of his chest, and can be recognized by its badge-like appearance. In it are four slots, so Baymax can hold up to four different program chips at one time. He is also capable of turning his head around 180 degrees, which is shown during the car chase with Yokai and other occasions.
Baymax also comes with a traveling case, where he will place himself inside the case and deflates, compressing his carbon skeleton into the case for convenient transport. This case is also his charging station for when Baymax runs low on power; this makes him similar to real-life robots such as ASIMO (his real-world inspiration) and Pepper (a similar robot that also likes to give hugs and fist bumps).
Due to his soft padding, Hiro developed two different armors to enhance Baymax's fighting and natural strength. The first one, a dull-green padded armor, was made after Baymax received a martial arts chip from Hiro. The armor covers Baymax's entire body and is designed to restrain his soft form to make him more durable (much to his concern), although it is wide enough to fit comfortably around Baymax's wide physique.
The second armor is worn by Baymax in his superhero form: This one is made of red and purple metal, and has a sleek, trim design compared to the prototype. It has rocket thrusters equipped into its feet and back-mounted wings to enable flight. In addition, the armor has reinforced durability and flexibility to improve Baymax's speed and strength. His helmet's visor was transparent in the film but was changed to translucent blue in Big Hero 6: The Series.
Powers and Abilities
Baymax is a robot designed for care and support, as such he has abilities suited for his function.
Multilingualism: Baymax is programmed to speak primarily English, but it has been shown that his language settings can be changed and can talk in several other languages.[6]
Superhuman strength: According to Tadashi, Baymax was mechanically provided with considerably impressive strength and is supposedly able to lift 1,000 pounds. However, this cannot be applied to physical force due to his slow movements and vinyl padding since he was unable to even kick down a door. However, clones of him could do it since they moved faster than Baymax and had no vinyl on them. His strength is increased with his super-suit on. Moreover, the strength-application programming encrypted into Baymax permits proper calculation when actually implementing the technology-based strength in question, enabling an armored Baymax to lift up heavy girders and yet still be gentle enough to harmlessly pat a person in the back, in armor or otherwise.
Data storage: Baymax has the ability to store a massive amount of data, making him highly intelligent in several fields, should he take the time to access the information from a module.

Medical knowledge: Baymax has a wide database on health and has information on over 10,000 different medical procedures, including surgical, as confirmed when Baymax once produced a retractable and built-in scalpel from one of his fingers after mistaking a brokenhearted Fred for needing an actual surgical cardiac procedure. It also includes psychological health, as he tried to do therapy with Hiro.

Display screen: He can project different kinds of data on the frontal torso area of his vinyl body, from analyses to images.
Scanner: Baymax has a built-in scanner that allows him to scan all medical data on his patient and readily identify them. With his suit, the scanner becomes enhanced and can be used to track the person down by their medical profile. In the film, this was seen powerful enough to even discern details of a person in stasis and literally trapped in a spatial void.

X-ray vision: His scanning abilities also include X-ray vision. This allows him to detect fractures and can send the diagnosed images to other devices like cell phones.

Defibrillators: One of his medical components, Baymax has defibrillators built into his hands.
Anti-bacterial spray: Baymax dispenses a spray from his hands to kill pathogenic microbes on his patient.
Heating system: Baymax's body is equipped with a heating system that warms anyone lying on him.
Cooling system: Much like his heating system, Baymax can make his vinyl to become cold thanks to ammonium chloride cold packs he is equipped with, so he uses this to cool down things or to apply in burns and bruises.
Chip reading: Baymax's programming can be modified depending on the chip that's installed. He was able to learn karate techniques when Hiro downloaded these into a chip for him; however his personality resides in his original chip, so if this chip is removed, the remaining chips will override his initial programming.

Martial Arts: Due to the fighting chip installed, Baymax can execute various fighting moves and actions.
Sense of heroism: Hiro created a new chip for Baymax similar to his fighting chip, but this one no longer risks him turning violent and allows him to defend innocents and other heroic deeds.
Dancing capabilities: Due to the dance chip installed, he can execute various dance moves of different dance styles.

Audio recorder and player: He can record audio such as people's voices and play it from his own body.
Extinguisher: Baymax has a retractable extinguisher in his index finger.
Telephone: Baymax has been shown capable of receiving voice calls from Hiro's acquaintances, as well as video-calls.
Flashlight: His hands can also become flashlights to light the way in dark places.
Lie Detector: He can also scan people's eyes and heartbeat in order to detect when someone is lying. Hiro also created a chip to enhance this ability.
Scalpel: Baymax has a scalpel hidden in one of his index fingers, although he had to download information about surgical procedures before trying to use it for the first time[7].
Expanding Neck: Although not a particularly useful feature and rarely seen, Baymax can extended his neck[8].
With his armor, Baymax becomes considerably stronger and more mobile, and gains certain abilities.
Flight: Due to the thrusters on the armor's feet, Baymax is capable of flight. Despite his size, he is extremely good at maneuvering through the air. Occasionally, because of this ability, Baymax's teammates will use him as transportation. When in the air, the suit lets him reach mach speeds.
Rocket fist: Baymax's armor's glove can disconnect from the suit, and propel itself toward a target. This allows the glove to be used as a projectile.
Magnetism: The back of Baymax's armor is equipped with magnetic extensions, allowing Hiro to safely ride atop the robot's back (when wearing his own armor) without the fear of falling.
Overdrive Mode: With a special chip, Baymax can adapt his armor into a larger, more powerful version of himself along with a sword made out of his wings. This transformation only lasts a few minutes due to how much power it uses however, leaving Baymax in low battery mode afterwards. This mode can also be used with other armors and enhance the respective armor's abilities.
Battle Suits
Baymax has been given different types of armors to increase his strength and usefulness.
Fight Armor: Baymax's initial armor which Hiro created to have him fight Yokai, since the robot's default structural design would otherwise render Baymax's installed knowledge on hand-to-hand combat useless. It was dull-green colored and was constructed using his 3D printer.
Super Armor: Also known as Baymax 2.0, it is an upgrade which Hiro gave to Baymax when he formed Big Hero 6. Instead of green it was made red and purple like his charging station. It added wings and thrusters, among other powerful features. It became Baymax's main armor for crime-fighting.
Ultra Armor: A silver armor with red parts that is made of titanium, created by Hiro so Baymax and the rest of Big Hero 6 could take on Orso Knox. In Season 2, this armor is repainted, where the silver is now black with red accents.

Jet Pack: An additional module that can attach to Baymax's ultra armor. It enhances the speed of flight, extends the duration of Overdrive Mode, and allowing him to maintain his flight ability in this mode. This jetpack has a seat similar to a motorcycle for Hiro to replace his magnetic pads, which are used to attach it to the armor.

Submarine Armor: Hiro initially built this armor for Baymax to help recover Wasabi's car from the bay. It has a sonic blaster which helps scare animals like sharks. Overdrive Mode can also be used with this armor, adapting it in a larger version (but smaller than his normal armor's Overdrive Mode), where his wings are turned upwards and uses them similarly than an icebreaker ship, and he can use his sonic blaster to rotate fast and be used like a drill/harpoon.
Weaknesses
Low Battery: Baymax only has a limited amount of battery charge. When he gets to very low levels, all of his capabilities are weakened and he starts showing signs of low battery power, up to and including slurred speech, decreased motor movement, visible battery indicators, and (when in his armor) an inability to fight. In addition, using his "Overdrive Mode" drains his battery faster.
Slow Movement: While not using his armor, Baymax's movements are rather slow, which makes him vulnerable to surprise or sudden attacks.
Vinyl Body: Because he was initially designed to be harmless, his vinyl body can be deflated or ripped easily. Yet, his exposed exoskeleton can still support getting hit.
History
Baymax came into being when Tadashi had finally calibrated his creation to be properly functional. Eager to show his success, Tadashi then brought Hiro to the San Fransokyo Institute of Technology one night so he could meet Baymax. Using duct tape, Tadashi purposely causes Hiro physical pain on his right arm, making Hiro yelp in pain. The sound activates Baymax's pack, and Baymax inflates out in front of Hiro, prompting Tadshi to introduce Baymax as his latest project. Baymax explains his background to Hiro, and then analyzes Hiro and gives him a brief diagnosis, tends to his wound and gives him a lollipop for being a good patient. Baymax tells Hiro the code words meant to deactivate him ("I am satisfied with my care") and after Hiro says those words, the robot returns to his pack.
Sometime after Baymax was introduced to Hiro, the robot was somehow transferred to the Hamada residence, remaining inactive in his pack. During Baymax's inactivity, Tadashi was tragically killed in a fire at the university, making Hiro grieve for his brother's death. Following these events, a depressed Hiro accidentally stubs his toe, letting out a cry of pain which summons Baymax, who greets Hiro and tries to tend to his wounds. Though surprised that Baymax was reactivated, Hiro instead tries to get rid of Baymax, finding him to be an unnecessary distraction. While Hiro tries to push Baymax back into his case, he slips and falls onto the floor. At this angle, Hiro notices a Microbot, one of the many that Hiro had presented at the university (the night of Tadashi's death). Confused as to why one would still be active when the Microbots were supposedly destroyed in the fire, Hiro sees the Microbot trying to link itself with other Microbots, but believing no other Microbots to be present, Hiro deems the device defective and discards it. Baymax, however, notices the bot's movement and picks it. Hiro sarcastically orders Baymax to find the Microbot's desired location; however, Baymax takes Hiro's order literally and leaves to follow the Microbot's trail, causing Hiro to frantically catch up with Baymax.
Eventually, Baymax tracks the destination down to an old warehouse. Hiro finds a way in through the second-story window, but Baymax gets caught due to his girth, so he deflates and then reflates to get in and the two then explore the warehouse. As the two find out that someone has been producing excessive quantities of Microbots, a masked man by the name of Yokai suddenly confronts Hiro and attacks him with the Microbots. The chase is hindered by Baymax's slow movement and size once again, but ultimately he is pushed out of the window by the Microbots and cushions Hiro from the high fall. Hiro immediately tries to notify the San Fransokyo Police Department to report the incident, but the police officer is unconvinced by Hiro's frantic claims. Before Baymax can contribute to Hiro's story, he suddenly becomes impaired due to his power running low. With few options to turn to, Hiro is forced to take Baymax home to recharge him.
Once he regains cognition, Baymax notices and questions Tadashi's absence in the Hamada household. Hiro explains Tadashi's death, leaving him with a heavy heart. Sensing Hiro's condition, Baymax downloads files on human emotion from Hiro's computer in order to comfort Hiro, and calls Hiro's closest friends despite Hiro's protests. At that moment, Hiro realizes that the fire that killed Tadashi was not an accident, but a way for Yokai to obtain his Microbots and cover his tracks. To avenge Tadashi, Hiro decides to bring Yokai to justice with Baymax's assistance. Setting to work on his plan, Hiro downloads files on recorded karate and martial arts moves to create a special chip for Baymax to give him the ability to battle. Hiro also creates a special suit to protect Baymax and execute his strength, though Baymax notes his discomfort, feeling that the modifications may undermine his intentional purposes.
Nevertheless, Hiro assures the best, and instructs Baymax to do some karate moves. After Baymax's training, the duo then sneak out into the night to track down Yokai. However, Yokai is owhere to be found at the warehouse; Hiro is prompted to use the remaining Microbot to track the others, which soon leads them to the nearby docks, where Yokai is on the prowl. Hidden from Yokai's sight, Hiro and Baymax are about to battle; suddenly, Hiro's friends Go Go, Wasabi, Honey Lemon, and Fred arrive and catch them on the scene since Baymax had contacted them earlier. Before the group can process what is going on, Yokai is alerted by their presence and immediately confronts the group, throwing a cargo load towards them only to be foiled by Baymax protecting the team. While the group retreat to Wasabi's van to get away, Baymax stays behind to try holding the villain off; however, his efforts are for naught as Yokai sends Baymax skyward with a Microbot throw, making Baymax crash on the roof of Wasabi's van. With Yokai on their trail, the team find themselves in a car chase through San Fransokyo streets. During the chase, Hiro nearly falls out of the van, but Baymax saves Hiro and fastens his seat belt for Hiro's caution. Eventually, the team escapes Yokai by accidentally driving off the docks and falling into the water, tricking Yokai into believing they have perished.
Though they have successfully escaped Yokai, the team is at risk of drowning. Removing his armor, Baymax is able to carry them up to the surface. To recover, Fred decides to take everyone to his mansion for safety; on the way in Baymax also meets and fist-bumps the butler Heathcliff. Inside, as Baymax activates his warming system for the team to rest with, Hiro ponders on Yokai's true identity. Baymax then reveals that he had scanned Yokai's health during the chase (while explaining this was because he was meant to care for everyone), giving Hiro the means the track Yokai down. However, knowing that Yokai will not be easy to take down alone, Hiro, Baymax, and the rest of the team decide to use their talents to upgrade themselves into a group of superheroes. For his upgrade, Hiro develops a second armor for Baymax that allows him to fly. With Hiro, Baymax takes a test flight throughout the city to test his capabilities. After the flight is successful, the two begin to bond as Baymax scans Hiro again and is delighted to see that Hiro's levels of happiness and serenity have increased. With this, Baymax concludes that his treatment has reached completion, and asks Hiro if he's satisfied with his care, which would result in the robot's deactivation. Not wanting Baymax to depart yet, and needing him to stop to Yokai, Hiro denies the request and commands Baymax to scan the city to find Yokai. Baymax complies, and he traces the masked villain's whereabouts are traced to Akuma Island so the heroes gather to travel forth.
At the island, they discover an abandoned portal testing facility once own by the entrepreneur Alistair Krei, leading the group to believe that Krei is the culprit behind Yokai's mask and wishes to rebuild the portal for his own purposes. Just then, the group is encountered by Yokai. While Baymax is trapped underneath rubble, he eventually joins the fight and the group defeat the villain, who is soon revealed to be Professor Callaghan, the former professor at SFIT who was believed to have been killed in the very fire that killed Tadashi. Enraged that Tadashi's sacrifice was for nothing, Hiro orders Baymax to destroy Callaghan. Baymax objects, stating that it is against his programming to harm a human being. Without second thought, Hiro removes Baymax's healthcare and leaving the fighting chip at full operation, turning Baymax into a merciless killing machine. Carrying out Hiro's order, Baymax goes after a frightful Callaghan while the other members of the Big Hero 6 try to stop their lost friend from carrying out the deed. The distraction is enough to let Callaghan escape, but Honey manages to return Baymax's healthcare chip to the robot, restoring his personality. Ashamed and shocked by the harm he has caused, Baymax apologizes to the team for causing distress, but Hiro orders him to find Callaghan in hopes of finishing the job. Baymax denies because his scanner has been corrupted, motivating a furious Hiro to ride Baymax back to San Fransokyo and abandoning the rest of the team.
Back home, Hiro tries to remove Baymax's healthcare chip permanently but the robot refuses to open his access port as he reminds Hiro that removing his chip would only repeat the events from last time and thus would not help ease Hiro's pain. Baymax then asks Hiro if this is what Tadashi would have wanted, causing Hiro, out of grief and anger, to finally break down over Tadashi's death. Seeing Hiro's despair, Baymax comforts the boy by showing him footage of Tadashi when the former was building Baymax. The sight and sound of a comforting, loving Tadashi eases Hiro's heavy heart and bringing him to his senses. Hiro thanks Baymax for helping him, when at that moment the rest of the team arrives (having gotten off the island with help from Heathcliff) so Hiro apologizes to them for how he acted. Accepting his apology, the team then show the duo the rest of the footage they uncovered.
Watching the footage again reveals that the pilot that was in the portal test was Callaghan's daughter Abigail, and that she was apparently killed in the accident that resulted in the closure of Krei's facility, leading the team to realize Callaghan's scheme is a revenge plot against Krei. Together this time, the team head to Krei Tech to stop Callaghan from carrying out his plan. There, Callaghan has attacked Krei and reconstructs the portal above Krei's company so that it would destroy all that Krei loves by sending it all into the portal that took Abigail. Baymax and the others confront and battle Callaghan, but are soon pinned down by the overwhelming swarm of Microbots. As Baymax nearly meets his end, the robot spots Hiro seconds away from being sucked into the portal. Motivated, Baymax gathers his strength and immediately rushes to the rescue, saving the boy in time. From there, Hiro instructs the others to attack the Microbots directly to send them into the sucking portal, thus rendering Callaghan impotent. With Hiro, Baymax contributes in the Microbot's destruction and flies up to Callaghan, seemingly preparing to eradicate the villain. However, Baymax stop inches short of attacking him as Hiro has decided to follow the moral code set by Baymax. Instead, Baymax takes off his mask and destroys it.
With the portal and the Microbots subdued, Hiro and the team prepare to escape the portal's oncoming destruction. However, Baymax does not budge as he is detecting life signals coming from the portal. Realizing that it must be Abigail, Hiro volunteers to go with Baymax into the portal and rescue her. As the portal continues to near destruction, the two enter the portal and find themselves inside a mysterious void. After flying across for some time, they finally discover Abigail's shuttle with Baymax's scanners, finding her resting in hyper-sleep.
Using his thrusters Baymax helps push the shuttle back to the portal. As the trio make their escape however, a piece of debris collides with the trio, destroying most of Baymax's armor as well as reducing their chance of escape. However, with one rocket-fist intact, Baymax informs Hiro that he can propel him and Abigail to the portal, knowing that this means he must stay behind to save them and thus requests Hiro to state that he's satisfied with his care, as deactivation is the only way he will be able to leave the boy's side. Hiro is initially against the idea, not wanting to lose Baymax as well, but the robot calmly tells Hiro that it is the only chance they have and that, no matter what, he will always be with him. In tears, Hiro embraces Baymax and sadly recites the statement to initiate Baymax's deactivation. With these words, Baymax launches his rocket fist, sending Hiro and Abigail back to safety while he is left stranded as the portal then explodes, thus trapping the robot inside the void.
Thanks to Baymax's sacrifice, Abigail is returned and Callaghan is brought to justice, but Hiro and the team mourn the loss of their robotic companion.
Over time, Hiro recovers from the loss of Tadashi and Baymax, finding comfort in his family and friends. Hiro officially joins the SFIT as a student and after a tour from his friends, he goes inside Tadashi's old lab. There, he finds Baymax's blueprints drawn in a notebook. He then brings out the remaining memento of Baymax: his armor fist. Upon uncovering it, Hiro notices Baymax's healthcare chip within the palm of the robotic fist. Overjoyed, Hiro sets to rebuild Baymax's body, using the chip to restore his personality and memories, only to be interrupted by Professor Granville, who tells him he has to earn the lab first. Still, Hiro continues his work between and after classes, while the rest of his friends discuss about continuing their lives as superheroes. Finally, Hiro finishes the exo-skeleton and uploads Baymax's consciousness to a computer. Baymax however tells Hiro to test the body before since it took Tadashi many tries before it was fully functional. Hiro however was too confident in himself and turned the body on, but it then went haywire and ran away.
Hiro followed the body outside the SFIT and noticed it ended up in hands of Yama, a criminal which Hiro had previously defeated in a bot-fight and got jailed. Yama remembered this and out of revenge decided to keep the robot, but once he noticed Hiro was an SFIT student, decided to make a deal as his boss tasked him with getting an item from the institute. With the help of Fred, Hiro obtained the item and took it to Yama, but Yama betrayed them and locked both up. Meanwhile, Go Go, Honey Lemon and Wasabi went in Tadashi's lab to invite Hiro to Noodle Burger, but noticed his absence. Baymax's consciousness told them that Hiro and Fred had gone to Yama's hideout, so the trio geared up to save them. After returning, Hiro explains all that happened and returns the stolen item to Granville's desk. The following day, he finally activates Baymax. Once rebooted, Baymax happily greets Hiro, following with the two sharing an emotional reunion. However, unknown to them, Yama duplicated Baymax's exo-skeleton and created an army of evil Baymaxes with it.
Baymax and Hiro then go to Lucky Cat Café, where Cass is happy to see Baymax and hugs him, then Baymax helps to carry many dirty dishes. Following this, Hiro creates a new superhero chip for Baymax which would bring back his fighting abilities, but would also give him a sense of heroism thus prevent another incident of Baymax trying to damage people. Fred also tells them that he had discussed their team's name and thought "Big Hero 6" was the best, even though the rest of their teammates had decided not to continue being superheroes. Soon, Granville entered the lab and discovered Hiro, Baymax and Fred, so Granville told Hiro that he would have to either focus on being a student or continue Fred's path.
Hiro then believed Granville was right and ultimately decided to continue his studies. Still, Fred tried to convince him in different occasions, but Hiro simply ignored him. One night, Yama's Baymax clones went out and started attacking the city to cause a distraction so that Yama could personally go to the SFIT and take the item once again. Hiro and their friends saw themselves with no choice but to suit up again since the police couldn't defeat the robots, although Hiro had to go with Baymax back to the Institute to create a new suit of armor for Baymax. There, they found out that Yama was trying to find the item again, and the two were spotted by one of Baymax's clones which ripped Baymax's vinyl. Though Hiro looked concerned, he quickly realized that Baymax could blend with the rest of the robots and acquire the item first.
After obtaining it, Yama hit his head with a book and triggered Baymax's healthcare function, so Yama discovered Hiro's plan and made the clones attack the real Baymax. The item that Yama wanted broke when Hiro tried taking it, and attached itself to the clone, overcharging it and throwing Baymax out of a window. Yama escaped while Hiro tried to hold onto Baymax, but he fell, albeit the team had defeated all the robots so they got to the SFIT in time and saved Baymax from the fall. Soon, Hiro fixed Baymax and finished his armor, then rushed to stop Yama. They then saw that the item had over-charged a train that Cass was riding, so Hiro devised a plan to stop it. After succeeding, Hiro used his gloves' magnets to destroy the item once and for all, then the team went back to the ground, now deciding to dedicate their days protecting San Fransokyo as the "Big Hero 6", in honor of Tadashi's dream of wanting to help people.
Other Versions
Baymax manga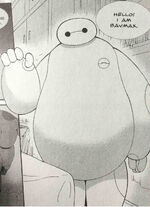 Main article: Baymax (manga)
Baymax is one of the main characters in the eponymous Baymax manga by Haruki Ueno, set in a standalone universe separate from the film. Although his personality is largely unchanged and his appearance is identical to the main counterpart, the story is different, as he is created by Tadashi specifically for the SFIT showcase held by Dr. Callaghan. He is created not only to help people, but Tadashi also kept Hiro in mind while building him, to impress Hiro (who was also competing in the showcase), and to help the boy with his anti-social behavior.
In the manga, Hiro also builds Baymax's red armor first while the simpler, green armor from the movie is seen in the prologue, indicating it was built later on and possibly for a different purpose.
Kingdom Hearts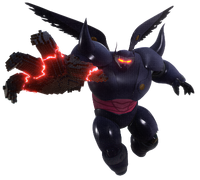 In Kingdom Hearts III, set after the events of the movie but not Big Hero 6: The Series, Baymax's original body returns, used by Dark Riku along with data from the Darkubes and the fighting chip, to see if they could create a heart from data. This had turned him into a Heartless version of the robot. Because the team's regular moves and gear have no affect on the Heartless, Hiro creates a chip with abilities and knowledge that allows Baymax to fight them, as well as to fight by Sora's side in battle. Baymax's 2.0 armor is part of the Nano Gear Keyblade's design, along with the icon that is of his Healthcare chip, as its keychain. After Sora and Baymax fought and defeated Dark Baymax, Hiro destroyed the fighting chip that is the robot's heart, and he replaced it to restore the original Baymax to his proper nature, giving team of the Kingdom Hearts universe two Baymaxes.
Cameos
Concept
Originally in Marvel Comics, Baymax was a synthformer robot powered by water, built by Hiro himself as a school project. Before Baymax's completion, however, Hiro's father Tomeo died, so the boy programmed Baymax's A.I. with his father's thoughts and emotions to keep his memory alive. Therefore, Baymax became Hiro's closest friend and protector.
For the movie, a video by Rotoscopers from 2013 and early information regarding the movie's plot somewhat implies that Baymax was originally going to be built by Hiro only after Tadashi's death to fill his void, just like in the comics, before this was changed to Tadashi being his creator instead.
Directors Don Hall and Chris Williams were determined to design a robot that had never been seen on-screen before. Hall and Williams knew that audiences had to fall in love right away if they were going to believe in a robot as a surrogate brother to Hiro. Visual development artist Lisa Keene came up with the term "huggable". Williams emphasized the idea that Baymax is basically a newborn, having a sweetness and a naïve quality. His movements were also inspired by those of baby penguins.[10].
Early on, Hall and a small team of filmmakers took a field trip to the Robotics Institute at Carnegie Mellon University. The design for Baymax was inspired by an inflatable arm robot which scientist Christopher Atkeson showed to Don Hall. Baymax's facial design was inspired by the suzu bell, which are found in Japanese Shinto temples. For his exo-skeleton, visual development artist Kevin Nelson comments that they looked at Incan mummies and made his vertebrae, arms and lower legs deflatable so they would disappear when he was shrunk down, while all his other bones have ways of bending to fit his whole body into the traveling case. For his armor, the producers met with J Mays, the Global Design Chief for Ford at the time, who inspired them to simplify the armor with simpler shapes and cleaner lines influenced by auto design.[10]
Other real-life robot inspirations for Baymax were Honda's ASIMO, RIBA-II caregiving robots and MIT's Media Lab's Boxie.[11]
Trivia
A deleted scene that is present in the supplementary book The Science of Big Hero 6, bonus DVD and the manga Baymax reveals that Baymax was presented at the showcase with Fred and Tadashi by his side, and whether or not Baymax was still inside the building when it exploded is left a mystery.[12]
The moment when Tadashi introduced Baymax to his friends and Aunt Cass is unknown, as it is never shown on-screen. There is however a picture from Hiro's phone shown in "Steamer's Revenge" where Tadashi, Hiro, Baymax and the rest of the group are all together, hinting that Tadashi may have introduced Baymax to them during the time Hiro was working on his Microbots. It is also possible that they knew Tadashi was building Baymax and met him before Hiro did.

In "Baymax Returns", Cass instantly recognizes Baymax when reunited, suggesting that she was also introduced to him at some point before Baymax's original body was lost.
Appearances
Gallery
Footnotes
↑ Although in reality, it was the work of Wendy Wower, Tadashi died before this was revealed.
References